I have suffered with anxiety attacks off and on for quite a few years and an advert for Patrick came along at exactly the right time. I had to go to New York for a week with work, I was really worried about the flight but also about the fact that I was not going out as much and enjoying myself as I used to.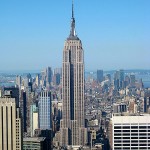 From the very beginning Patrick was really friendly and welcoming. It can be quite daunting telling a stranger your fears but Patrick immediately putting me at ease. He picked up on the key things that I needed help with and over the course of 4 or 5 sessions worked with me on relaxation, breathing and boosting my confidence. I always came out of the sessions feeling positive, it was great to be feeling like the old me again. My final session was a few days before I flew out and I have to say there were no problems at all, I absolutely loved New York and even sent him a photo of me at the top of the Empire State Building!
I have to say a huge thank you to Patrick, I honestly do not think I could have done it without him and I could not recommend him highly enough.
M. London May 2011.