20 Feb 2013, Posted by London Cognitive Hypnotherapy
January 2016 London Events to stimulate the mind…
Some interesting events and exhibitions  in London at the Welcome Collection in Euston in central London (very near train stations St Pancras, Euston and Warren Street).  Events at Welcome Collection are free and some are ticketed in advance with drop in walk up on the day allocations. Call ahead their contact details are below.  There are specific talks and discussions if you check the links below and a cafe there too.
Body, Mind and Meditation in Tantric Buddhism 28 February 2016
'Tibet's Secret Temple' is a show that explores Tibetan Buddhist yogic and meditational practice and their connections to physical and mental wellbeing.  As I work with clients bringing Western Science and Eastern breathing and mediation techniques to help clients move from anxiety to wellbeinng and happiness, is of much interest.  In February the next exhibition is
Inspired by an exquisite series of 17th century murals from a private meditation chamber for Tibet's Dalai Lamas in Lhasa's Lukhang Temple, the exhibition features over 120 objects including scroll paintings, statues, manuscripts, archival and contemporary film, together with a wide range of ethnographic and ritual artefacts. Three of the murals from the temple have been recreated, by photographer Thomas Laird, as life-sized digital artworks that form the centrepiece of the exhibition.
'Tibet's Secret Temple', by bringing the mural images together with a unique set of objects, will uncover till now unseen stories behind the ancient, esoteric and once secret practices illustrated in the Lukhang murals and show their relevance to the expanding and wide-ranging contemporary interest in meditative wellbeing.
States of Mind: Tracing the edges of consciousness From 4th February 2016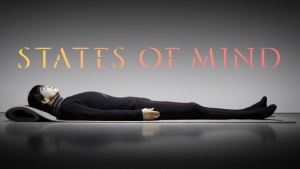 Following on from 'States of Mind: Ann Veronica Janssens', this changing exhibition will examine perspectives from artists, psychologists, philosophers and neuroscientists to interrogate our understanding of the conscious experience.
Exploring phenomena such as somnambulism, mesmerism, and disorders of memory and consciousness, the exhibition will examine ideas around the nature of consciousness, and in particular what can happen when our typical conscious experience is interrupted, damaged or undermined.
Wellcome Collection
183 Euston Road, London NW1 2BE, UK.
http://wellcomecollection.org/whats-on/events/all-events
http://wellcomecollection.org/whats-on/events/all-events
Conversational hypnosis may do better job than pills for relaxing patients before surgery
Anxious patients heading into surgery often receive medication to ease their fears, but a few calming words from their physicians might actually be more effective medicine. In fact, "conversational hypnosis" as the approach is known, may do a better job than pills for relaxing patients before anesthesia and surgery, suggests research being presented at the ANESTHESIOLOGY™ 2015 annual meeting.
"The anesthesiologist uses calm, positive words to divert the patient's attention and help him or her feel more comfortable," said Emmanuel Boselli, M.D., Ph.D., lead author of the study and a physician anesthesiologist at édouard Herriot Hospital, Lyons, France. "It reflects a change in the way the physician interacts with the patient and takes just a few minutes."
Researchers used conversational hypnosis, which consists of talking quietly and positively to the patient (e.g. "Keep calm and quiet" vs. "Please don't move") and focusing the patient's attention on something other than the preparations for surgery and anesthesia procedure. They compared the results of hypnosis to the use of a standard medication called hydroxyzine, which is taken orally to relax patients before their procedure
Read more http://www.news-medical.net/news/20151028/Conversational-hypnosis-may-do-better-job-than-pills-for-relaxing-patients-before-surgery.aspx
Sunday 11 October 2015
I am grateful to be able to share this short clip on the science of the brain and "neuro plasticity" in short what you give your attention to shapes the physical brain and as your physical brain changes it affects the mind.  What can you and I learn from this ?
Tuesday 14 September 2015
I caught an interview on BBC World Service about artist John Bramblitt who lost his sight. Angry he began to paint. He didn't care about the results just wanted to get stuff that was in his mind out. It worked. Blind and an accomplished artist this short documentary won Most Inspirational Film 0f 2008 on Youtube. What can you learn from his story?

The Documentary from John Bramblitt on Vimeo.
WOULD YOU LIKE TO BE BRILLIANT EVERY DAY?
What happens when you lose it? When a phobia kicks in or you have a panic attack? When you your thinking brain shuts down under stress and you don't make the right decision? Or you just lose your form. What happens when you lose your performance or don't achieve the results you want?
Part 1 of video

If NLP is about anything its about achieving excellence in a specific context. I use a range of techniques to help clients achieve excellence. Where in your life would you like to feel and think differently – when you take decisions about important things? Or just avoiding negative situations like stress and anger and saying something you might regret? ight it be around food or exercise? I am here to help and I post stuff here that I hope you will find useful in your everyday life.
This talk by Dr Alan Watkins a very successful and entertaining life and business coach offers some brilliant suggestions on how to be brilliant every day.
Quite a big ask you might say?
Being brilliant when you are up in front of your boss for assessment ? Performing well in interviews for that dream job. Be creatively brilliant? Well according to Dr Alan there are some simple things you can do to help you do just that.
There are two videos here parts 1 and part 2 on Youtube. Its all about how we can improve our results whether its academic performance, sales performance, relationship performance or sports performance. Wherever stress and anxiety get in the way and we lose our access to our best resources.
Dr Alan Watkins talks through the various levels of behaviour, thinking, feelings and raw biological emotions.
And here is part 2. The solution to being brilliant every day…

VIDEO OF THE WEEK CONSCIOUS VERSUS UNCONSCIOUS CHANGE 21/02/2013
Sometimes we find that our Conscious mind can't access the resources it needs to change a habit or behaviour that is unwanted. Hypnotherapy is an excellent way of changing especially when other methods haven't succeeded yet, be it dieting to lose weight or patches to quit smoking, controlling anger or getting motivated. For deep & lasting change to happen that is congruent with your personality and well being the Unconscious needs to be on board for the change as well as the Conscious part of your mind. And that is I what I can help you with.
here Michael Carrol who is an excellent trainer working with the NLP Academy. Michael trains hypnotherapists anc coaches to get excellent results for their clients. In this video he is talking about and how you can harness the resources of your Unconscious and the Conscious for changing behaviors. Take a look and I wonder what your thoughts are on it.
If you have a pattern or habit of unwanted behaviour you wish to change: stop smoking or increase motivation towards a goal then please get in touch. I am happy to have a no obligation conversation with you to see if we can work together to get relief. In the meantime, have a look at this.
BOOK OF THE WEEK 20/2/2013
The Tell-Tale Brain by V.S. Ramachandran
I love my kindle. But it does lead to some impulse purchases. One minute you are in traffic and listening to the radio as I was the other night when I heard the Dalai Lama on the Radio 4.
A few minutes and a couple of click's later I had pulled over and bought a book that was briefly mentioned.
The book's title was "The Tell-Tale Brain (Unlocking the Mystery of Human Nature: Tales of the Unexpected from Inside Your Mind) by V. S. Ramachandran.
He is a fascinating neuro-scientist and has been called one of the most influential people in the world by Time magazine. As a Neuro Linguistic Programming practitioner and a hypnotherapist I am looking forward to learning even more about the mind and the brain.
So it is with much excitement that I have started to read it. I was especially impressed that one of my heroes Allan Snyder (the eccentric Director Of The Centre For The Mind described it as "A masterpiece. The best of its kind and beautifully crafted."
I am especially interested in the chapters on autism, phantom limbs and synthesia (the surreal blending of sensation, perception and emotions) these are people who experience the world in extra-ordinary ways: they taste colours, see sounds hears shapes or touch emotions. Very excited.
Now I just need the time to read it. There is a bit of a traffic jam on my kindle of other books waiting to be read. But this goes to top of the queue.
You can read the reviews or buy it for yourself on Amazon.